Please join us for lunch at the Plaza Club at 12n and meet our speaker, April Bullis from Honolulu Habitat for Humanity.
Mahalo to speaker chair, Jeff Venture, for securing our speaker!
April Bullis is a student of sustainability with nearly a decade of experience managing various nonprofits. Focused on serving and strengthening communities, April currently manages the Honolulu Habitat for Humanity ReStore, raising funds to build and repair homes on O'ahu, while diverting tons of materials from local landfills. Whenever possible, April enjoys traveling; organizing items using the KonMari method; supporting local farmers; and experimenting with new recipes to share with family and friends. April who was born and raised in Upstate NY was inspired by a "minimal-ish" lifestyle and moved to O'ahu in 2015 and now loves living off-the-grid on the North Shore.
Topics are noted below, plans to discuss:
• What Habitat provides to the community
· Affordable home build, home preservation, and community revitalization programs
· Financial education services
· Volunteer opportunities: Build Sites, ReStore, and Office
· ReStore home improvement store and donation center
• Ways to get involved with Honolulu Habitat.
Please show your support the signing up at the link below and save the date!
Please join us for lunch at the Plaza Club at 12:00n and meet our speaker, Mark Ritchie from DBEDT who talk about Opportunity Zones!
Bring Commercial Bankers, Financial Advisor, CPAs, Wealth Managers and your clients to learn about
this program. which was designed to incentivize investments in these areas through advantageous tax benefits. Investors can re-invest their capital gains taxes into these "O-Zones" and potentially receive material tax benefits.
Please show your support by clicking onto the link to sign up and save the date!
Mark Ritchie serves as the Branch Chief for Business Support Services at the Hawaii Department of Business, Economic Development and Tourism (DBEDT). His Branch has responsibility for the Enterprise Zone program to stimulate economic activities including manufacturing in exchange for tax incentives. He is also a key player in formulating and executing DBEDT's export development programs.

Mark has held positions in a Hawaii life science start-up, a major Silicon Valley computer technology company in addition to economic development positions in several global trade and inward investment organizations. Mark has a proven track record in: strategic & partner relations; sales and marketing; product development; corporate strategy; and financing including venture & strategic. Prior to DBEDT, Mark held a key management executive position advising a Hawaii-based life science company on operations and business strategy. He led the business development efforts for the markets of human and animal nutrition including aquaculture; cosmetic ingredients and biofuels. Mark also drove strategic partner, customer acquisition and fundraising programs at the company.

In Silicon Valley Mr. Ritchie was a Vice President at Scottish Development International in San Jose, California where he successfully promoted Scotland as an investment location to senior management of high technology companies. He also account managed many of the most important existing foreign investors in Scotland, including Sun Microsystems, Intel, Micron, Cisco, Agilent, Atmel, and National Semiconductor. Before this, he was a strategic relations manager and a product manager at SGI (Silicon Graphics), the high performance computing company in Mountain View, California. There, he led a cross-functional team to launch the company's first 64-bit Intel (Itanium) processor based workstation. Mark also spent a number of years as a business development manager at the Canadian Trade Office in San Francisco and in San Jose, assisting mostly Canadian technology companies seeking partnerships and venture capital in Silicon Valley. He holds a BA with high honors in political economy from UC Berkeley and a Master's degree in International Business and Economics from the Fletcher School, Tufts/Harvard Universities.
The recently passed Federal Tax Cuts and Jobs Act of 2017 authorized a community economic development program called the Opportunity Zones Program. This initiative provides incentives for investors to re-invest realized capital gains into Opportunity Funds in exchange for temporary tax deferral and other benefits. The Opportunity Funds are then used to provide investment capital in certain low-income communities, i.e., Opportunity Zones. Hawaii designated 25 census tracts as Opportunity Zones. Come learn about this new initiative and how various stakeholders can get involved. More information on Hawaii's Opportunity Zones and this initiative can be found at: https://invest.hawaii.gov/oz/
Mark Ritchie joined the Department of Business, Economic Development and Tourism (DBEDT) five years ago as the Branch Chief for Business Support services. Mark's branch has responsibility for the Enterprise Zone and the CBED (Community-based Economic Development) programs, which includes promoting Hawaii's Opportunity Zones. Prior to DBEDT Mark served in the following positions: Chief Business Development Officer at Kuehnle AgroSystems, Inc., a Hawaii life science start-up; Managing Director at Enterprise Honolulu (EH), a private sector Oahu economic development agency; Product Manager at SGI (SiIicon Graphics), a high performance computing company; and various economic development positions in several global trade and inward investment organizations.
Best Regards,
Mark J. Ritchie
Branch Chief, Business Support Branch
Business Development and Support Division
State of Hawaii, Dept. of Business, Economic Development & Tourism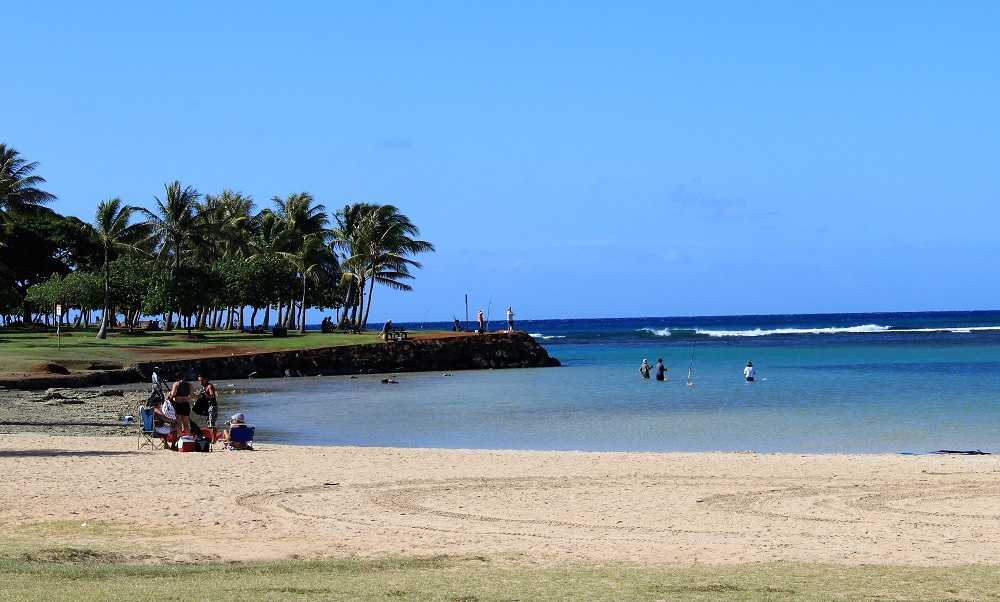 Come join us for fellowship amongst Rotarians and their families.
Date: Saturday September 7
Location: Ala Moana Beach Park
To make things easier, bentos and drinks will be provided for $5 per person.
Therefore please RSVP so we can get a good head count. Please feel free to bring additional snacks if you wish.
Please show your support and sign up by clicking onto the below:
Event: 63rd David Malo Awards Banquet
Awardee: Hokulani Holt-Padilla
Date: Friday, October 25, 2019
Start Time: 5:30 p.m. (Cocktails)
Place: Hale Koa Hotel; Banyan Tree Showroom
Registration Fee:
Regular Club Members: Fees for regular members and their significant other are paid for
Senior & Youth Club Members: $43/person; regular price for significant other

Sponsored Table (10): $1,000/table

Guests: $85/person
Please contact Derek Tenn at 808-224-4992, if you have questions about registration.
If you have any questions, please call me, Richard.
Please show your support and sign up by clicking onto the below:
Hawaii Rotary Youth Foundation
Give Aloha Campaign
September 1 – 30 , 2019
Support HRYF (Hawaii Rotary Youth Foundation) to Help Provide Scholarships to Hawaii Students.
Coming to a Foodland, Sack N' Save, and Foodland Farms near you!
Yes, it's that time to support HRYF, which provides scholarships to our Hawaii students, giving them an opportunity to further their education. With this education, they can become productive citizens within our community, hopefully as Rotarians! These students are our future!
The BEST and EASIEST way to donate to HRYF is at Foodland during their "Give Aloha" Campaign, September 1-30, 2019. Your gift will be matched so that a $20 donation becomes approximately $24, a $40 gift would increase to around $48. The match comes from Foodland and Western Union. Based on past years, the matches have provided at least an additional 20%!
Please help by distributing the attached flyer to each of your Club members and announce the "Give Aloha" campaign during the month of September. (detailed instructions included.)
It's quite simple! To donate, go to any Foodland, Sack N' Save or Foodland Farms with your Maika`i Card or number, designate the donation to the Hawaii Rotary Youth Foundation (Org. Code – 77199) and request a duplicate receipt. Give your copy to your Club HRYF Representative to mail in so we can credit you and your Club. Please write in your Name and Club on your receipt. You can also scan the receipt and email it to:
office@hawaiirotaryyouthfoundation.org
. Your donations can count for the Per Capita Giving Award to be announced in the Spring.
What is HRYF? The Hawaii Rotary Youth Foundation was founded by Maurice J. "Sully" Sullivan (founder of Foodland) during his year as District Governor in Hawaii, 1976-77. It was Sully's desire to assist Hawaii's high school graduates realize their potential by attending a 4-year college or university of their choice here in Hawaii or on the Mainland United States.
Suggested giving to HRYF is $40 per Rotarian. This level of giving will allow HRYF to continue with the $5,000 scholarship per Club. Currently, HRYF receives about $235,000 from our Foundation investments each year but we need at least $265,000 to find all of our Clubs and the number of Clubs keeps growing!
Thank you for your continued support.
Geoff Horvath
HRYF President
SUPPORT
Hawaii Rotary Youth Foundation
at Foodland, Sack N Save and Foodland Farms
to Help Us Raise Funds!
Hawaii Rotary Youth Foundation (HRYF) is participating in Give Aloha, Foodland's Annual Community Matching Gifts Program. This program honors Foodland's founder, Maurice J. "Sully" Sullivan, and continues his legacy of giving back to the community. Proceeds from this campaign will help fund the HRYF scholarship program.
HRYF was founded by Mr. Sullivan during his year as Rotary's District Governor in Hawaii, 1976-77. It was Sully's desire to assist Hawaii's high school graduates realize their potential by attending a college or university of their choice here in Hawaii or on the mainland United States.
How It Works
From September 1-30, customers are invited to make donations up to $249 (per person) to participating Hawaii non-profit organizations at checkout. Individuals must use their own Maika'i card to make a donation. Foodland and the Western Union Foundation will match a portion of each donation made with a Maika'i card. Donations made without a Maika'i card will not be matched.
How to Donate
At checkout, present your Maika'i card (or give your 10-digit number) and inform the cashier that you would like to make a donation to Hawaii Rotary Youth Foundation. If you do not have a Maika'i account, you may establish one by telling the cashier you would like to do so; you will need to give a unique 10-digit number (such as your phone number).
Tell the cashier HRYF's 5-digit code: 77199.
Tell the cashier how much you would like to donate. Your donation will be added to your grocery purchase total. You may donate up to $249.
Be sure the cashier reaffirms HRYF's name and amount that you are donating.
Any donation must be made payable to Foodland, Sack N Save or Foodland Farms.
Hawaii Rotary Youth Foundation's name and the amount you donate will appear on your receipt. Please ask cashier for a duplicate receipt.
Donor names will not be released to HRYF. Give your duplicate receipt to your HRYF club coordinator so they can mail it to our office for credit to your individual account. You can also email a scanned copy to: office@hawaiirotaryyouthfoundation.org.
You may make donations to more than one organization - you may donate up to $249 per organization over the course of several store visits.
Are These Donations Tax Deductible?
Give Aloha donations are tax deductible to the full extent of the law.
How Will My Donation be Matched?
Every year, the matching gift percentage varies and cannot be pre-determined. For the past 5 years, the matching percentage has been between 20%-25%. Thus, if a customer donated $100 to an organization, Foodland and the Western Union Foundation's matching gift was $20-$25. The actual matching gifts will be calculated at the end of the program. Organizations will receive 100% of all customer donations given to their organization, plus their % of Foodland and the Western Union Foundation's matching gift.
It is great pleasure to inform you that the Celebration Dinner for the 45h Anniversary of our Club will be held on the 7th of October, 2019 in Nagoya, Japan. We would like to invite you, your Anns, members of your Club and their Anns to honor this occasion. We also would like to invite you, your Anns, and all visitors from your Club to Welcome Dinner for our foreign visitors on the 6th of October, 2019. 1) Welcome Dinner on the 6th of October, 2019 (Sun) at Hotel Castle Plaza; 2) The 45th Anniversary Ceremony on the 6th of October, 2019 (Mon) at Hotel Castle Plaza. We are presently making plans for our 45th Anniversary activities and the details of the schedule will be informed to you in due course. We look forward to seeing you again in Nagoya, Japan this October.
Hidekazu Yamakita Masanori Inaguma President (2018-2019)
President (2019-2020) Kazunori Kurita Chairman of the Anniversary Committee
We have received an update from our sister club Makati West on their 50th anniversary celebration. If you're interested in attending, please inform International Service Co-Chair Glen Suzuki (email: gsuzuki1@yahoo.com). He will be the liaison between West Honolulu and Makati West. Thank you.
We have below update for our 50th Anniversary and kindly expect more update in the coming days.
22 November, Friday - Welcome Dinner
23 November, Saturday AM- Morning Activity (choices of Firearm shooting OR Golf OR Shopping)
23 November, Saturday PM- 50th Anniversary Ball
24-25 November, Sunday-Monday - Beach Overnight Stay
Official hotel: SEDA Hotel BGC (30th Street corner 11th Avenue, Bonifacio Global City, Taguig, Metro Manila)
USD 144 / night for single or double occupancy
*Tentative arrangement with SEDA Hotel
If you have arranged flights, we would appreciate giving us the number of your delegation. Thank you!
Blessings,
Kai
Shekinah Yarra
|
Head Secretariat/ Office Manager
| Makati West, D3830
I am the Point of Contact for the 2020 Rotary International Convention Host Organization Committee, HOC for short, and my job is to keep the Club up-to-date on the convention and also the HOC activities.
As a recap, the 111th international convention is well underway with about 18,000 already registered. Imagine Rotarians from all over the world coming to Hawaii to experience the Power of Rotary and enjoy our island hospitality! There will be lots of collaboration on projects and partnerships, lots to learn about Rotary and a lot of inspiration from awesome speakers. The convention will take place at the Hawaii Convention Center June 6 to 10, 2020. There will be great speakers, maybe 100 breakout sessions and several hundred booths in the House of Friendship. Rotary International is responsible for the convention logistics, the program, speakers, breakouts and the House of Friendship.
The HOC is responsible for the local events, which includes 2 lunch cruises, a windward fishpond service project, a walk for peace in Ala Moana park, host hospitality and a fabulous concert at the Waikiki Shell. We have a website for registrants to sign up for the HOC events and also tours and activities. In order to cover the expenses, we need your help with donations and sponsorships. If you would like to donate or can reach out to your company contacts, it would be much appreciated. If the amount is $6,000 or higher, please let Sonya Mendez, the Sponsorship Chair know, because we need to get Rotary International's approval first.
We also need a lot of volunteers. If you would like to greet people at the airport, provide info at the Convention Center or just want to be in the thick of the action, sign up either on the HOC or District website. This is an initial volunteer registration. You'll have a chance to choose your shift later this year.
This convention is an opportunity for you to see the Rotary big picture without having to pay a lot for airfare and hotel rooms. It will bring a lot of attention to Hawaii, not to mention revenue for the State. So, what are you waiting for, register now before the price goes up in December.
Here are web addresses for more information:
The HOC website is: rotaryhonolulu2020.org
The District website is: rotaryd5000.org
The Rotary International website to register is: riconvention.org
Thank you for listening and I hope you will take action to donate, volunteer and register for the convention. It's going to be a memorable opportunity for us to share the Aloha spirit with Rotarians from around the world, make lasting friendships - and learn more about Rotary ourselves!
Charlene Meyers, POC Liaison